Welcome to Get Laid UK Sex Contacts
We are here to help you get laid!
We know the site works, its been getting us laid since way back in 2004.
There are plenty of people waiting to shag your brains out, single girls, single guys or couples; straight, Bi-curious, Bi-sexual or gay, we have them all.
We are JoJo and Dirty David, we have been helping UK Swingers get laid since back in the mid 1990's. We are a genuine swinging couple, and we are not just running this site as a business, it's one of the ways we meet new friends.
We now live in Spain - it's cheaper to live here than in the UK - but we meet up with UK swingers every month at our social nights on the Costa Blanca or at one of our swingers parties here at our home.
To find out more about us, have a look at the page "Come Play With Jo & David" to see what we like and check out our picture site (it's 100% free) at www.joanddavid.com

---
What has the site got to offer you?
By joining up you have access to over 4.5 million swingers profiles. You can browse through them, search for people by distance from your location, filter out the people who do not meet your requirements and write messages to the ones who do.
In the members area you will find chat rooms, video chat rooms and forums. You can post and see all the people who want to meet up tonight in our "Quick Swing" section.
Swingers Clubs
We have a listing of 95% of the swingers clubs in the UK. no-one can be 100% accurate, as new clubs open every week, and other close. We are reliant on people like you to let us, and our other guests, know about these openings and closures.
Sex in the Sunshine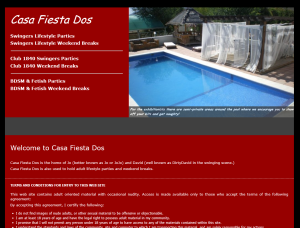 We run swingers weekend breaks all though the year. Just catch a cheap flight from Ryan Air or Easyjet to Alicante or Valencia airports on a Friday, party with us for the weekend and then catch a flight back home on the Sunday, or extend your stay in the Spanish resort of Benidorm where you can lie in the sun in the day, and play with your new friends during the evenings.
Each of our weekend breaks includes a party, each month we hold 4 parties. a BDSM night, a couples and singles night (great for greedy girls), a club 1840 night (only for swingers aged 18 to 40) and a couples and ladies night.
Visit our website at www.CasaFiestaDos.com for full details and to book your trip.
Alternatively, if you are coming to the Costa Blanca region of Spain for a holiday then get in touch - we can collect you from any of the Costa Blanca resorts. bring you to our home for the weekend, then return you to your resort on the Sunday.
Or, if you have a hire car, come along to one of our monthly parties held at our home in the country, details are on our swingers party website at casafiesta.party. It could be a fun filled holiday!!.
We hope to meet many of you soon.
JoJo & Dirty David
---